Cobholm Primary School launches new library to encourage love of reading
Back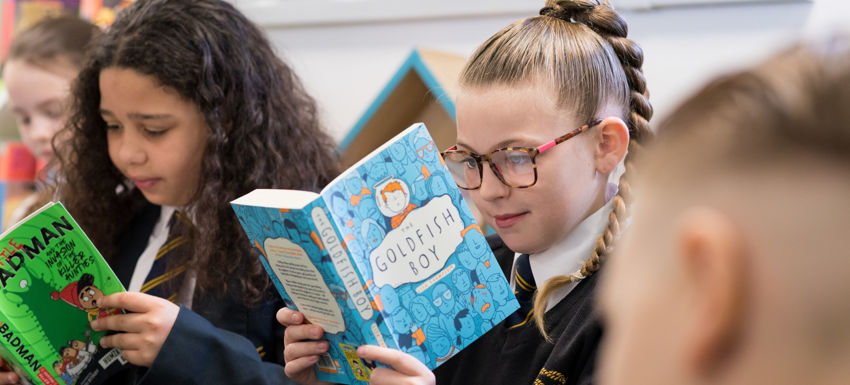 May 21st 2021
Library forms centrepiece of school strategy to prioritise literacy
Pupils at Cobholm Primary School will be supported to develop a love of reading after school leaders have invested heavily on a new library. Cobholm Primary School is a member of the Inspiration Trust, a family of schools based in Norfolk and Suffolk committed to ensuring every child has the best education possible.
The library will form a central part of Cobholm Primary School's strategy to prioritise literacy among pupils. This has been identified as a key area of improvement for the school as it supports childrenfollowing their time out of school.
The library is filled with new books, with many chosen to reflect the diversity of the pupil body at the school and to ensure that there is something of interest for all. School staff have worked hard to choose books which celebrate the range of backgrounds their children have, and have even brought in a number of picture books aimed to support children who have English as an Additional Language, who could otherwise fall behind in their learning.
Pupils will play an active role in the library as each House will elect a child librarian, a Key Stage 2 volunteer who will support their peers in accessing books, as well as reading stories to younger children.
The library will support the existing Read, Write, Inc. programme designed to develop pupils' literacy, as well as encouraging a love of reading which will prove invaluable to their future learning.
Jordan Sullivan, Head of School, said:

"We wanted to reflect the fact that reading is at the heart of the school, and the new library is the perfect way to do this. We expect it really will become the hub of the school, and so will raise the profile of reading among our pupils. We know how important reading is to children's later success in life, and we want to ensure that we give our pupils the best possible start here."
"It was a real priority to ensure we have a reading culture embedded in the school as part of a longer-term project to improve reading and writing and to make sure every pupil develops a love of reading. This is part of a concentrated strategy to improve literacy at the school, and to ensure our pupils always have access to books."