Ofsted praises Cobholm Primary Academy in glowing inspection report
Back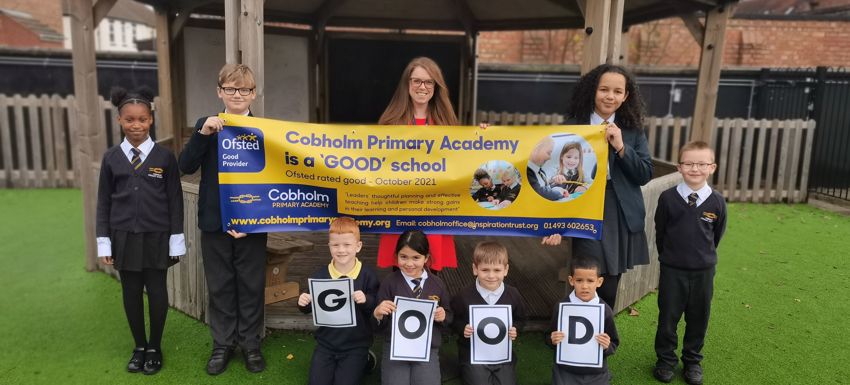 November 30th 2021
Staff and students at Cobholm Primary Academy are today celebrating after high praise from Ofsted following an inspection in October. The academy, part of the Inspiration Trust, was judged to offer a 'Good' quality of education across every category for the first time in the school's history, clearly demonstrating the high quality of education which is taking place on a daily basis.
The report outlines that Cobholm Primary Academy is well led and managed. Staff are happy with their workload and feel well supported by school leadership, including teachers new to teaching who told inspectors they feel well prepared for a career in teaching. Ofsted also highlighted the support of the Inspiration Trust in training staff to ensure they are fully able to carry out their duties.
Key highlights recognised in the report include:
Staff hold high expectations for their pupils. Due to improvements to teaching and behaviour, pupils do well and gain the knowledge they need to be well prepared for the next stage of their learning.
The curriculum has been carefully designed to build on pupils' knowledge in each subject and ensure they have a solid understanding of each topic. Curriculum leaders focus on ensuring that teachers are well supported in teaching important knowledge in a logical order, to help pupils to know more and remember more in each subject.
Pupils talk enthusiastically about what they are learning at school in different subjects and achieve well across the curriculum. They gain the knowledge, understanding, and skills they required to be successful when they leave Cobholm Primary Academy.
Pupils and parents spoke to inspectors about the improvements in behaviour across the school, and pupils said that no bullying took place.
All pupils participate in the school's enrichment programme and enjoy the many opportunities the school provides for them to visit interesting places and hear from people with widespread expertise.
Pupils develop a love of reading as they progress through the school and are very impressed with their new library. Pupils know why it is important to include everyone and to understand their role in the local community.
The special educational needs coordinator knows the needs of pupils with special educational needs and/or disabilities well. Staff have the training, advice, and resources to adapt the curriculum so it meets all pupils' needs, and all pupils receive the specific support they need to thrive and learn well.
The early years curriculum is well planned and put into practice and children learn the skills and knowledge they need to start Year 1. Due to the pandemic most children in Reception have not had any pre-school experience, but school leaders' thoughtful planning and effective teaching means that children make strong gains in their learning and personal development.
Danielle Sargeant, Head of School at Cobholm Primary Academy, said:

"We are all delighted with this glowing Ofsted report which highlights all the fantastic work that takes place at Cobholm Primary Academy. I am so proud of all our staff and our pupils who have worked so hard to get to this point, and so pleased that their efforts have been recognised by the external inspectors. We have always thought that this is a really special school, and it is fantastic that Ofsted agree."Gareth Stevens, CEO at Inspiration Trust, said: "Congratulations to Danielle and her team for being recognised as a Good school by Ofsted - the first time in nearly 30 years. They should be very proud of themselves for this fantastic achievement, and that they take the chance to celebrate it with their pupils and wider community. Cobholm Primary Academy is offering a fantastic education to everyone who comes into their classrooms and I am delighted for them all. Well done to all for their hard work. With all three of Inspiration Trust Great Yarmouth Schools now good, we will aim to go even further to ensure all pupils in the Great Yarmouth area have the very best education and life chances"
You can view their latest Ofsted inspection report here.