90s brass band takeover Cobholm Primary Academy's assembly with Music Masterclass
Back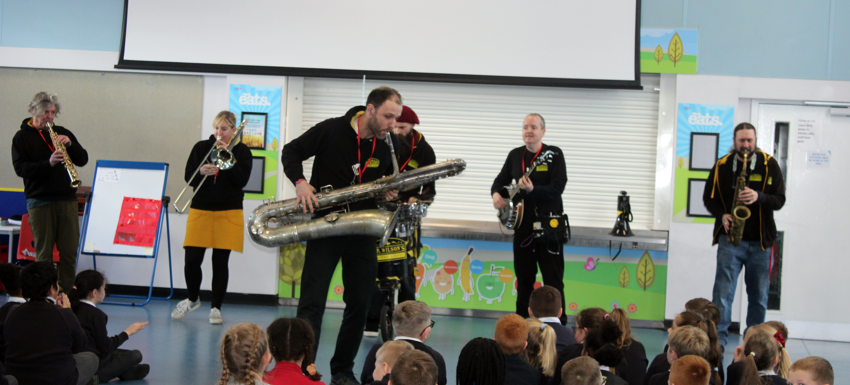 March 1st 2022
Last week, our students from Cobholm Primary Academy and Great Yarmouth Primary Academy had the pleasure of welcoming 90's New Orleans band, Mr Wilson's Second Liners, into their assembly for a dance-along music takeover, organised by community-led programme, Freshly Greated.
Our students thoroughly enjoyed dancing along to Mr Wilson's Second Liner's 90s tracks, as they learned about various brass band instruments and had the opportunity to get involved with music they may have not been exposed to before. The music sessions continued with community music processions on both evenings after the assembly, where students were encouraged to bring their family along to enjoy a music march with the community.
Freshly Greated is a community-led programme dedicated to increasing engagement with arts and culture in Great Yarmouth and Gorleston. Funded by Arts Council England, the project works alongside local residents in key neighbourhoods to programme fun, creative activities, events and experiences which will engage and reflect the wider community. Freshly Greated has worked closely with Cobholm Primary Academy over the past year, with the school hosting part of the Out There International Arts Festival and pupils performing alongside giant lip puppets. Our schools are looking forward to continuing to collaborate with Freshly Greated to bring the best arts and cultural experiences to children in the Great Yarmouth area.
Sam Jinks from Freshly Greated said: It was a real pleasure to bring 90's club classics courtesy of Mr Wilson's Second Liners to the students and staff of Cobholm Primary Academy and Great Yarmouth Primary Academy. The atmosphere in each school was incredible and it was great to see smiling faces and lots of dancing. We were also delighted to see so many students bring their families along for the 90s Music Procession later in the evening, with over 400 people joining the musical march through each neighbourhood. Freshly Greated look forward to working with both schools again in the future.